Tourists throng to Jaflong, a popular tourist destination in Sylhet. If tourism does not thrive, it will be difficult for Bangladesh to meet the Sustainable Development Goals by 2030, experts said at a program in Dhaka yesterday. PHOTO: STAR/FILE
">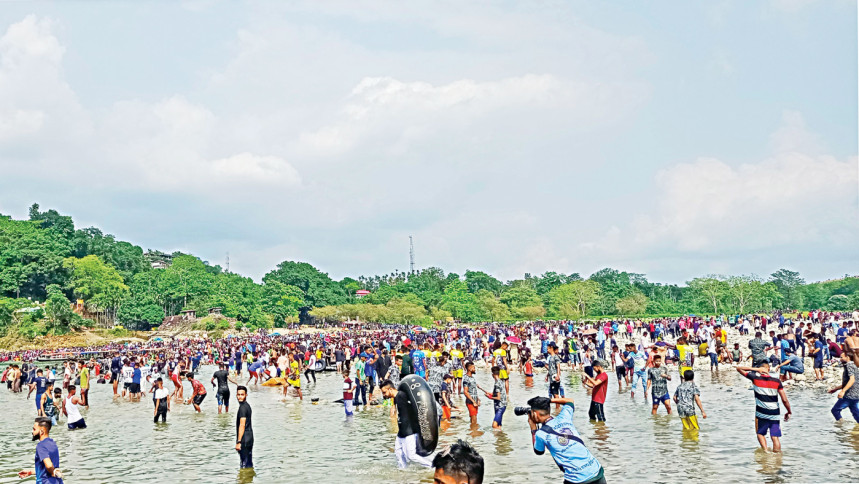 Tourists throng to Jaflong, a popular tourist destination in Sylhet. If tourism does not thrive, it will be difficult for Bangladesh to meet the Sustainable Development Goals by 2030, experts said at a program in Dhaka yesterday. PHOTO: STAR/FILE
Businessmen have called for issuing licenses to tour operators recognizing them as exporters
Proper planning for the development of the tourism sector has become imperative as the Sustainable Development Goals (SDGs) cannot be achieved by 2030 if tourism does not thrive in Bangladesh, speakers said at a meeting yesterday.
At least 6 SDGs are directly and the rest indirectly related to tourism, they said during the first meeting of the Federation of Bangladesh Chambers of Commerce and Industry (FBCCI) standing committee on tourism development at the office of the FBCCI.
Additionally, there are 109 sectors directly and 1,100 sub-sectors indirectly related to the tourism industry. Each tourist creates 10 direct jobs and 35 indirect jobs, they said.
Tour operators present at the meeting urged the government to officially announce that the country was open to foreign tourists as it had been to businessmen, which would attract tourists from all over the world.
At the same time, they demanded the resumption of "visa on arrival" facilities.
During the meeting, the businessmen called for issuing licenses to tour operators recognizing them as exporters, facilitating the process of transferring money abroad, placing tourist destinations under the Ministry of Tourism and Ensure the security.
The tourism industry lacks skilled labor and could hire experienced managers and other employees from Sri Lanka to tackle the problem, said FBCCI Senior Vice President Mostofa Azad Chowdhury Babu.
VBCCI Vice President MA Momen emphasized ensuring safety at tourist sites and strengthening coordination between public and private efforts.
FBCCI Vice President, Md Amin Helaly called for developing the standard of hospitality services by undertaking skills development programmes.
The sector needs to work on compliance, identify tourism products and country branding and streamline rates for hotels, motels and resorts, said FBCCI director Syed Moazzem Hossain.
Currently, the tourism sector accounts for 3.5-4% of GDP. This contribution should be increased to 10 per cent. Therefore, a coordinated action plan must be formulated and implemented, the speakers added.