The Caribbean and Mexico are prime locations for villa rentals, offering stunning sea views, beach and pool access, and staffed services. Many are large enough to accommodate a multi-generational family reunion, a small wedding party, a corporate retreat, or a group of friends looking for some R 'n' R in their own space.
Ani Private Resorts is one of many companies offering villa rentals in the area, but it believes it offers something truly unique, billing itself as "the world's premier collection of private resorts". Ani currently offers just four exclusive retreats or resorts – in Anguilla, the Dominican Republic, Sri Lanka and Thailand – with a fifth villa complex (a second location in Anguilla) set to join the collection in 2024. At Ani, guests are assured that their party will be the only one booked at the resort for the duration of their stay.
Ani Private Resorts and its nonprofit Ani Art Academies were founded in 2010 by philanthropist and patron of the arts Tim Reynolds. The company name is derived from the Swahili word andjanimeaning the path or journey ahead, according to Henny Frazer, Ani's Marketing Director.
"Each resort is designed to accommodate only one group of guests at a time with a minimum of six rooms reserved for five nights," Frazer said. "No resort has more than 15 suites. The staff to guest ratio is greater than one to one. All staff are locals who know the area well and speak with guests before they arrive to help them personalize each details of their stay.
Ani's property in Anguilla overlooks Little Bay on the northwest coast of the island. Photo credit: Ani Private Resorts
"Each villa is located away from tourist areas and offers the services of a five-star resort, including a general manager, operations manager, executive chef and culinary team, hosts and housekeepers" , he added.
All four private resorts are new builds, starting with the Anguilla property, which opened in 2010 on the island's north coast overlooking Little Bay.
All of Ani's resorts except Anguilla are all-inclusive; Ani Anguilla offers half board (two meals a day) "because this island has such great restaurants, we want our guests to be able to venture out and sample them," Frazer said, adding, "Guests have the option full board for an extra $75 a day."
• Related: Sunny and bright forecast for Anguilla
Two villas with suites and rooms with ocean views are located on top of a cliff in Anguilla and can accommodate up to 20 people.
Ani Dominican Republic opened in 2017 on a private peninsula on the north coast of the island between Samana and Cabarete and includes Villa Larimar and Villa Amber, sleeping up to 28 people with a team of over 30 people to refine every aspect of the stay.
Outside the Caribbean, Ani Sri Lanka is located on the southern coast of this island overlooking the Indian Ocean. It has two infinity pools and two Salas – large modern spaces with living and dining areas upstairs and downstairs – and a hall that can accommodate up to 30 people.
Ani Thailand has lush gardens and offers views of Phang Nga Bay. It welcomes groups of up to 20 people.
• Postcard from Asia: Greetings from Thailand!
Facilities include swimming pools, beach access, a small gym and spa, an events and entertainment pavilion, multiple dining venues, water sports, children's and wellness activities, and organized excursions, high-speed Wi-Fi, free babysitting, daily laundry service, and airport pick-up and drop-off. transfers for the group. All offer wheelchair accessible accommodation.
Depending on the resort, special events include a beach barbecue, biking, moonlight movies, and a sunset cruise. Anguilla also offers cooking classes and a DJ for an evening; there are rum tastings, folk dancing and cigar rolling in the Dominican Republic. In Thailand there is a Thai dance performance, batik painting and fire jugglers and in Sri Lanka there are tuk tuk tours of local villages.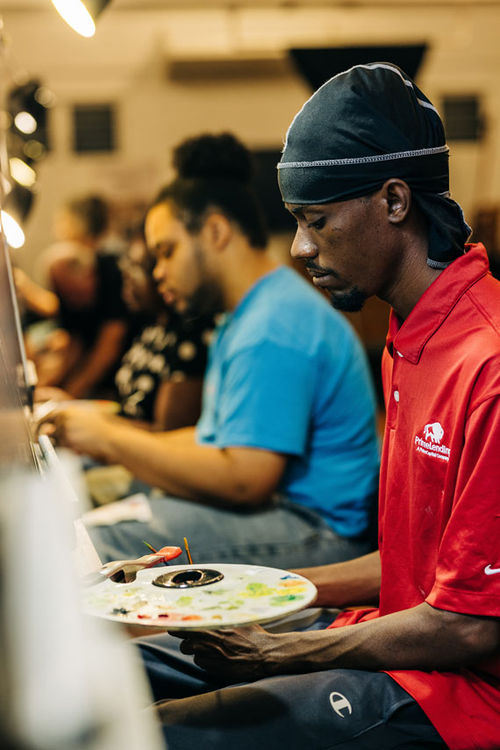 The Ani Art Academy in Anguilla caters to locals with tuition paid for by the resort's collection. An art academy is located at each of the company's four resorts. Photo credit: Ani Private Resorts
All guests at all four resorts can visit nearby Ani Art Academies, which offer budding artists instruction in honing their skills through a four-year art education program. Income from Ani properties covers all student tuition fees; all profits from the sale of their artwork go directly to them.
"Our inclusions are amazing," Frazer said. "Our founder believes the power of unity is priceless. Our standards and goals are to always do everything and more to make our customers happy."
Summer rates start at $13,000 per villa, per party for five nights: winter rates start at $27,000 in Anguilla, $32,000 in the Dominican Republic and Sri Lanka, and $17,000 in Thailand. Festive season (holiday) is already booked for this year.
Rates do not include 10% service charge and local taxes. Tipping is at the discretion of the guests.
The commission is 10%; bookings through travel advisors account for 60-70% of business, with Caribbean properties being "very strong", according to Frazer.
"We have a global sales agency, we attend webinars and trade shows everywhere, and our industry relationships are very strong," she said.